---
---
---
---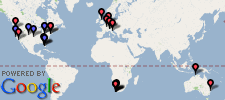 For more on this topic:
368,379 people killed, 306,096 injured and over $2,815,931,000 in economic damages


What's the harm in vitamin megadoses?
Unusually large doses of vitamins, famously espoused by Linus Pauling, can be very dangerous. Read more about vitamin megadoses
Here are 100,174 people who were harmed by someone not thinking critically.
---
Anne M. Adkins

Wichita, Kansas

Kidney failure
January 6 - 26, 2004

She traveled to Utah to be treated by a holistic naturopath. She received large doses of vitamin C, chelation therapy and colonics among other things. Within weeks she was suffering from kidney failure. Read more & more
---
Christopher Arbuckle

Age: 25
Portland, Oregon

Died
October 26, 1991

He was taking a Scientology "Purification Rundown" which involved extreme exercise and vitamin megadoses. He died of liver failure and his parents filed suit against the church. Read more
---
Leslie Bramston

Age: 44
Darwin, Northern Territory, Australia

Died (untreated cancer)
November 2004

Seeking a cure for her cancer, she was sold vitamin and herbal treatments for thousands of dollars. Finally she was injected with cesium chloride as part of an ozone therapy, and she died. Read more
---
Catherine "Cat" Elizabeth Bresina

Age: 17
Wheatridge, Colorado (from Wisconsin)

Cardiac arrest
March 25, 2004

Cat's family took her to Colorado for what they thought was an inventive therapy for her disease. An injection she was given during the treatment caused her heart to stop. Charges were later filed against the naturopath. Read more
---
Jocelyne Dorfmann

Age: 34
Grangey-sur-Ource, Dijon, France

Died (untreated epilepsy)
1984

At a Narconon center (run by Scientology), Jocelyne was taken off the medication that controlled her epilepsy. When she had seizures, they assumed it was withdrawal symptoms. After she died, the center was closed & charges filed. Read more & more
---
Paride Ella

Age: 22
Grassobio, Bergamo, Italy

Died
February 19, 1995

Just beginning Narconon treatment, he endured 5 days of agony including vomiting and diarrhea. He was taken to a hospital and died. Read more
---
Linda Epping

Age: 8
Los Angeles, California

Died
December 29, 1961

Linda was scheduled for surgery to remove a tumor, when her parents met a chiropractor who said he could cure her. He had her swallowing up to 124 pills a day for months. He was convicted of second-degree murder in 1967. Read more
---
Dennis Erlich

Clearwater, Florida

Burst appendix, hyperthermia


Two weeks after finishing a "Purification Rundown" in Scientology, his appendix burst. He also suffered hyperthermia and frequently breaks out in sweats since then. Read more & more
---
Dominik Feld

Age: 9
Siegen, Germany

Died (untreated cancer)
November 2004

His parents chose an alternative treatment for his cancer involving vitamin and mineral doses. The government tried to intervene. The boy eventually died. Read more
---
Mrs. Robert E. Geary

Medina, Ohio

Hallucinations, nervous breakdown
May 1988

When she lost sleep and had hallucinations during a "Purification Rundown" others in Scientology told her this was a good sign. Later she suffered a nervous breakdown and was hospitalized. Read more & more
---
Anita Gergasko

Age: 58
Hazlet, New Jersey

Died (cancer)


She refused chemotherapy for her breast cancer, instead choosing massive doses of vitamin C and herbs. The cancer spread. On her deathbed she made her husband promise that he would not allow any of her family or friends to make the same mistake. Read more
---
Carol Lemaistre

Age: 42
Bacup, Lancashire, England

Died (untreated cancer)
January 28, 2006

She shunned conventional treatment for cancer; alternative treatment was administered by her husband. He calls himself a doctor despite having no formal qualifications. He used touch, vitamin C and calcium supplements. She died within a month. Read more & more
---
Noah Maxin

Age: 11
North Canton, Ohio

Died (cancer)
May 17, 2007

His parents stopped his chemotherapy three months into a 3 1/2 year plan. A court fight ensued over this decision. They won the right to treat him holistically with diet and vitamins. His cancer returned and he eventually died. Read more & more
---
Marietta Ndziba

Cape Town, South Africa

Died
October 2005

She was given a quack medical cure, including large doses of vitamins, for AIDS. She even endorsed the cure on the salesman's website. She later died of AIDS. Read more & more
---
Noxolo Ngalo

Du Noon, Cape Town, South Africa

Died
October 30, 2005

She was being treated with vitamin megadoses for AIDS, but died of liver failure. Read more & more & more
---
Carol Jean Rubick

New York, New York

Died
January 18, 2003

After a lumpectomy for her breast cancer, the doctor recommended she forgo chemo and radiation in favor of antioxidants and vitamins in the "Ukraine protocol". Other doctors disagreed, but she went forward. She died of cancer, and her estate sued. Read more
---
Guissepe Tomba

Age: 26
Solaro, Milano, Italy

Died
February, 1995

Just beginning Narconon treatment, he endured days of agony including vomiting and diarrhea. Then his heart stopped. Read more
---
Johnny Warren (athlete) & 149 others

Age: 61
Sydney, NSW, Australia

Died (cancer)
November 6, 2004

A long-time smoker, he was diagnosed with lung cancer. His family pleaded with him to give up the unproven "wonder drugs" he was being given in Queensland. He died, and the doctor he was seeing was later investigated by authorities. Read more & more
---
Jerry Whitfield

Cape Coral, Florida

Liver failure
1997

Jerry had undergone a "Purification Rundown" as a Scientologist, and later discovered it had caused permanent liver damage. Read more
---
---
"Noluthando"

Bellville, Cape Town, South Africa

Died
June 2, 2005

Diagnosed with HIV in 2002, she was was on a waiting list for antiretrovirals. She started taking an alternative treatment, and in three days she could not even walk. Soon she was dead. Read more
---
"Ntombekhaya"

Khayelitsha, Cape Town, South Africa

Died
March 27, 2005

HIV positive, she was being treated for TB when someone offering alternative remedies contacted her. She stopped taking her TB medicines and later died. Read more
---
"Patient X"

Cape Town, South Africa

Died
October 8, 2005

He was being treated by a quack when his disease got out of control and he was hospitalized. He never had a chance to beat AIDS because of the time he wasted on the treatments. Read more
---
"Jane Roe"

Age: 4
San Francisco, California

Hospitalized
1971

The child was pale and chronically ill. She had diarrhea, vomiting, fever, loss of hair, enlarged liver and spleen. It turned out her mother was a "food faddist" & had been giving her large doses of vitamins A and D. These were stopped. Read more
---
thousands of Airborne customers

Bonita Springs, Florida

Misled that it could cure colds
March 3, 2008

Airborne is based on Chinese herbal remedies and large doses of vitamins. The box claimed it could cure a cold based on a study that was discovered to be bogus. A lawsuit awarded $23.3M to defrauded customers. The product is still on the shelves. Read more & more
---
"Federica X"

Age: 33
Torre dell'Orso, Meledugno, Italy

Died
October 11, 2002

Federica complained of stomach pains while at a Narconon center, a few days later she was dead. Read more
---