---
---
---
---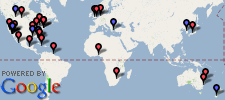 For more on this topic:
368,379 people killed, 306,096 injured and over $2,815,931,000 in economic damages


What's the harm in being famous?
Well, of course there is no harm in being famous. But it doesn't protect you either. Many celebrities or otherwise well-known people have been caught up in misinformation. Here are their stories.
Here are 185 people who were harmed by someone not thinking critically.
---
---
Steve Bechler (athlete)

Age: 23
Fort Lauderdale, Florida

Died
February 17, 2003

He was trying to lose some weight during Orioles spring training, using a supplement that contained the Chinese herbal remedy ephedra. He collapsed from multiple organ failure in the heat and died. The FDA banned ephedra a year later. Read more & more
---
Jason Beghe

Age: 48
Los Angeles, California

Spent $1M on Scientology
April 2008

An actor, he quit Scientology after 12 years when he realized the Church's practices were harmful. In a long interview posted on the internet, he explains his concerns. Read more & more & more
---
Samantha Cools (athlete)

Age: 22
Airdrie, Alberta, Canada

Neck injury just before Olympics
May 2008

Her chiropractor over-rotated her neck during a routine adjustment, tearing tendons and muscles. This painful injury even limited her ability to eat, mere weeks before the world championships. She came in fifth, and DNFed at the Olympics. Read more
---
Jacqui Dean (MP)

Age: 50
Otago, New Zealand

Public embarrassment
August 23, 2007

She was fooled by an online hoax that demanded a ban of "dihidrogen monoxide". (This is another name for water). She sent a letter to the Health Ministry asking for an opinion on banning the substance. Read more
---
Dr. Louis A. Gottschalk (psychiatrist)

Age: 89
Irvine, California

$1.3 to $3 million
March 2, 2006

A renowned psychiatrist at UC Irvine, his son alleges in a lawsuit that he has squandered millions on scams, even travelling to Africa once. Read more
---
President Warren G. Harding

Age: 57
Palace Hotel, San Francisco, California

Died
August 2, 1923

Despite the misgivings of a physician, his personal homeopath let him do arduous tasks and speak in the heat. When he had a bout of food poisoning, the homeopath applied heavy doses of purgatives to flush out toxins. He died. No autopsy was done. Read more & more
---
Isaac Hayes (musician)

Age: 64
Cordova, Tennessee

Income disrupted
March 2006

According to Roger Friedman, it was representatives of Scientology that forced him to quit as Chef on "South Park" when the show lampooned the religion. "Isaac's income stream was severely impaired as a result." Read more
---
Jeff Healey (musician)

Age: 41
Toronto, Ontario, Canada

Time wasted on useless treatments
March 2, 2008

In 2007 Healey underwent surgery to remove cancerous tissue from his legs and both lungs. Radiation and chemotherapy failed to halt the spread of the disease, as did alternative homeopathic treatment in the U.S. this year. Read more
---
Doug Henning (magician)

Age: 39
Los Angeles, California

Abandoned successful career
1986

He was a hugely successful magician. He abandoned his career to devote all his time to studying Transcendental Meditation, which he thought would allow him to levitate. When he died of liver cancer, TM people claimed he was cancer free. Read more
---
Jim Henson (puppeteer)

Age: 53
New York City, New York

Died (septic shock)
May 16, 1990

He had felt sick for several days. His wife later told a magazine that he probably delayed going to the hospital due in part to his Christian Science upbringing. Had he gone earlier his infection would have been treatable. Instead he died. Read more & more
---
Andy Kaufman (comedian)

Age: 35
Los Angeles, California

Died
May 16, 1984

Diagnosed with inoperable cancer, he sought out alternative therapies. He even flew to the Philippines to receive psychic surgery for six weeks. These treatments wasted time he could have spent with his family before he died. Read more & more
---
Coretta Scott King (civil rights)

Age: 78
Rosarito, Mexico

Last days spent on pointless treatments
January 30, 2006

She was the widow of Dr. Martin Luther King Jr. and a respected civil rights leader herself. She was diagnosed with ovarian cancer, and sought out alternative therapies from a clinic in Mexico. She died there of complications. Read more & more & more
---
Bob Marley (musician)

Age: 36
Nine Miles, Jamaica

Died (untreated cancer)
May 11, 1981

In July 1977 he was diagnosed with malignant melanoma in his right big toe. His Rastafarian religious beliefs did not allow for amputation. He sought alternative therapies as the cancer spread to the rest of his body. He died in 1981. Read more
---
Susannah McCorkle (Jazz singer)

Age: 55
New York City, New York

Suicide
May 19, 2001

She battled depression all her life, but stopped taking antidepressants due to side effects. She consulted a homeopath instead. After a setback she promised a friend she would take the Tegretol that had been prescribed. Four days later she was dead. Read more
---
Steve McQueen (actor)

Age: 50
Juárez, Mexico

Died (lung cancer)
November 7, 1980

Dying of lung cancer, Mr. McQueen sought out treatment with the controversial drug Laetrile in a clinic in Juárez, Mexico. He died there. Read more
---
Sylvia Millecam (actress)

Age: 45
Boxmeer, Netherlands

Died (untreated cancer)
August 19, 2001

A popular television personality, she sought out alternative therapies for her breast cancer, including a new age psychic healer. Two of her physicians were later barred permanently from medical practice. Read more & more
---
Bando Mitsugoro VIII (Kabuki actor)

Age: 68
Kyoto, Japan

Died
January 16, 1975

The liver of the fugu fish is widely known to be toxic, but he believed he could survive the poison. He ate four of them as a demonstration. Within minutes he died of paralysis and convulsions. Read more
---
Peter Mokaba (politician)

Age: 43
Johannesburg, South Africa

Died
June 9, 2002

A strong youth leader during South Africa's struggle for freedom, he later denied the existence of HIV. He also described anti-retroviral medications for AIDS as "poison". He later died of the disease. Read more & more
---
Grace Park

Age: 29
Seoul, South Korea

Bruised back
2007

Grace is an LPGA golfer. After hurting her back in 2005, she desperately tried any type of treatment to recover. A Korean form of acupuncture bruised her back and put her in agony. Weeks later she was bruised and her back was no better. Read more
---
Sarah Parkinson (actress)

Age: 41
East Sussex, England

Died (untreated breast cancer)
September 23, 2003

When she was diagnosed with breast cancer, she was concerned that chemotherapy would prevent her from using IVF to start a family. Instead she used acupuncture, spiritual healing, homeopathy and Johrei to treat it. Read more & more
---
Lou Pearlman (businessman)

Orlando, Florida

Tenant broke lease, lost $145K in back rent
November 4, 2004

One of Lou's business tenants discovered the space they had leased was supposedly haunted. They refused to move in, breaking a lease agreement. A lawsuit resulted. Read more & more
---
Darrell "Wayne" Perry (songwriter)

Age: 55
Monroe, Ohio

Died
May 15, 2005

He had cancer, but his tele-evangelist aunt allegedly advised him to stop taking medication and allow God to heal him. She then wrote about this in a book. He died, and his children sued for wrongful death, but later dropped the suit. Read more & more & more & more
---
Paula Radcliffe (athlete)

Age: 32
Athens, Greece

Olympic medal attempts ruined
August 22, 2004

She is a British athlete. Weeks before the 2004 Athens Olympics, a doctor injected her with a homeopathic remedy for a leg injury. The treatments allegedly caused a stomach ailment that forced her to withdraw from the marathon after 23 miles. Read more & more
---
U.S. Congressman Leo J. Ryan

Age: 53
Port Kaituma, Barima-Waini Guyana

Murdered
November 18, 1978

Visiting Guyana to investigate reports of abuse within a cult that had many members from his district, Congressman Ryan was murdered as he attempted to leave the country. Read more
---
Sandra Schmirler (athlete)

Age: 36
Regina, Saskatchewan, Canada

Died (cancer)
March 2, 2000

An Olympic gold medalist and three-time world champion in curling, she contracted esophageal cancer. Unfortunately she received treatment from a provider that uses remedies that are not scientifically proven. She died, leaving two children. Read more & more & more
---
Peter Sellers (actor)

Age: 54
Dorchester, England

Died (untreated heart condition)
July 24, 1980

A heart attack in 1964 had permanently damaged his heart. His doctors were advising bypass surgery, but he delayed it and instead saw psychic surgeons twice a year. He died of a massive heart attack. Read more & more
---
Clay Shaw (businessman)

Age: 55
New Orleans, Louisiana

Prosecuted for conspiracy
March 1967 - March 1969

The district attorney believed conspiracy theories about the JFK assassination and thought Clay was involved. He was arrested and prosecuted. The jury exonerated him in less than one hour. Read more
---
Barry Sheene (motorcyclist)

Age: 52
Gold Coast, Queensland, Australia

Died (untreated cancer)
March 8, 2003

He was a world-famous motorcycle racer and commentator. Diagnosed with cancer, he rejected chemotherapy. He treated himself with "natural therapy" consisting mainly of a low-protein diet, plus "microwave therapy." He died less than a year later. Read more & more & more
---
Wesley Snipes (actor)

Age: 45
Ocala, Florida

Federal indictment on $12 Million fraud
October 17, 2006

Mr. Snipes made the mistake of hiring a tax advisor who is a "tax protestor", and believing what that person told him. He was eventually sentenced to three years in prison. Read more
---
Susan Strasberg (actress)

Age: 60
New York, New York

Died (untreated cancer)
January 21, 1999

Diagnosed with breast cancer, she sought out a psychic healer from Russia, who later claimed to have cured her. She died from cancer three years later. Read more
---
Michael Tylo II

Age: 19
Henderson, Nevada

Died (seizure/drowning)
October 18, 2007

The son of actress Hunter Tylo and actor Michael Tylo, he was counseled that his seizures were caused by familial stress & could be treated with therapy and acupuncture. Later, he suffered a seizure, fell into a pool and drowned. His mother has sued. Read more
---
Johnny Warren (athlete) & 149 others

Age: 61
Sydney, NSW, Australia

Died (cancer)
November 6, 2004

A long-time smoker, he was diagnosed with lung cancer. His family pleaded with him to give up the unproven "wonder drugs" he was being given in Queensland. He died, and the doctor he was seeing was later investigated by authorities. Read more & more
---