---
---
---
---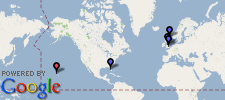 368,379 people killed, 306,096 injured and over $2,815,931,000 in economic damages


What's the harm in fearing terrorism?
It is only natural for people to be afraid of terrorism. But it is also easy to overreact to the threat of terrorism, and people can get hurt in the process. Read more about terrorism fear
Here are 292 people who were harmed by someone not thinking critically.
---
Michael Tony Futi

Age: 14 days
Honolulu, Hawaii

Died
February 8, 2008

He was being flown from Samoa to Hawaii for emergency heart surgery, but overzealous customs officials detained him and his caretakers for several hours. He died in a customs room at the airport. Samoan officials are calling for an investigation. Read more
---
Brad Jayakody

Age: 30
Bayswater, Greater London, England

Trip delayed
May 2008

He was wearing a T-shirt depicting a cartoon robot holding a gun. Security officials forced him to change his shirt before boarding an airplane. Read more
---
Darren Nixon

Age: 28
Stoke-on-Trent, Staffordshire, England

Detained, fingerprinted needlessly
January 26, 2008

When a woman reported a man carrying a handgun, police reacted swiftly. The only problem? There was no handgun, just a black MP3 player. He received an apology but feels it is a "stain on his character". Read more
---
128 airline passengers

Fort Myers, Florida

Trips disrupted needlessly
March 27, 2004

A self-described psychic called in a tip that there might be a bomb on the plane. By the time the search was done, the flight had to be cancelled. Everyone was put on later flights. Read more
---
"Jane Roe"

Age: 23
Aberdeen, Scotland, UK

Questioned by police, oil rig evacuated
February 10, 2008

She happened to mention that she had a dream about a bomb to her coworker on a North Sea oil rig. As a result, the rig was evacuated by air and she was taken to the sheriff for questioning. The evacuation may have cost up to £500,000. Read more & more
---