---
---
---
---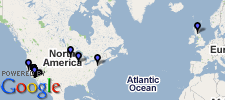 For more on this topic:
368,379 people killed, 306,096 injured and over $2,815,931,000 in economic damages


What's the harm in trying to recover lost memories?
Some therapists believe they can help child abuse victims recover lost memories. The methods used have been widely discredited. It is quite easy to create false memories which are then misused as court testimony. Read more about repressed memories
Here are 23 people who were harmed by someone not thinking critically.
---
Peggy Ann Buckey

Manhattan Beach, California

Lost job, 3 years on trial for non-existent crimes
March 22, 1984

Peggy was a victim of the McMartin preschool trial, in which many innocent people were charged with crimes that never happened. This was due to hysteria and pseudoscientific witness interviews. Read more & more
---
Peggy McMartin Buckey

Age: 59
Manhattan Beach, California

Lost job, Tried twice over 7 years for non-existent crimes
March 22, 1984

Peggy was a victim of the McMartin preschool trial, in which many innocent people were charged with crimes that never happened. This was due to hysteria and pseudoscientific witness interviews. Read more & more
---
Ray Buckey

Age: 25
Manhattan Beach, California

Lost job, Jailed for five years without ever being convicted of a crime
March 22, 1984

Ray was a victim of the McMartin preschool trial, in which many innocent people were charged with crimes that never happened. This was due to hysteria and pseudoscientific witness interviews. Read more & more
---
Patricia Burgus

Age: 41
Chicago, Illinois

False memories induced, $10.6M judgement
1986 - 1992

She said her therapist convinced her she had repressed memories of being part of a satanic cult by using hypnosis and other techniques. She eventually received $10.6 million in a settlement. Read more
---
State of California

Los Angeles, California

$15 Million wasted on two trials
March 22, 1984

California spent millions on the McMartin preschool trial, in which many innocent people were charged with crimes that never happened. This was due to hysteria and pseudoscientific witness interviews. Seven years later, many lives were ruined. Read more & more
---
Katrina Fairlie

Age: 37
Tayside, Scotland, UK

False accusations of abuse
1994 - 2005

She falsely accused her father of rape after "recovered memory" therapy, and it ruined her life. She sued. An settlement for £20,000 was reached with no admission of guilt. Read more
---
Margie Grafton

Bakersfield, California

8 years in prison, conviction overturned
September 24, 1984

False memory syndrome, Satanic ritual abuse hysteria Read more & more
---
Mary Ann Jackson

Manhattan Beach, California

Lost job, Spent 3 years on trial for non-existent
March 22, 1984

Recovered memory therapy, Satanic ritual abuse hysteria Read more & more
---
Brenda Kniffen

Bakersfield, California

14 years in prison, conviction overturned
1982

False memory syndrome, "Wink response test", Satanic ritual abuse hysteria Read more & more
---
Scott Kniffen

Bakersfield, California

14 years in prison, conviction overturned
1982

False memory syndrome, "Wink response test", Satanic ritual abuse hysteria Read more & more
---
Alvin McCuan

Bakersfield, California

14 years in prison, conviction overturned
1982

False memory syndrome, "Wink response test", Satanic ritual abuse hysteria Read more & more
---
Debbie McCuan

Bakersfield, California

14 years in prison, conviction overturned
1982

False memory syndrome, "Wink response test", Satanic ritual abuse hysteria Read more & more
---
Virginia McMartin

Age: 77
Manhattan Beach, California

Lost her 28-year business, spent 3 years on trial for non-existent crimes
March 22, 1984

Virginia was a victim of the McMartin preschool trial, in which many innocent people were charged with crimes that never happened. This was due to hysteria and pseudoscientific witness interviews. Read more & more
---
Margaret Kelly Michaels

Age: 23
Maplewood, New Jersey

7 years in prison
April 30, 1985

Kelly was an innocent woman charged with abusing 20 children. Trouble was, the only evidence was false memories created during interviews with the children. She was convicted, but eventually released. Read more & more
---
---
Tim Palomo

Bakersfield, California

8 years in prison, conviction overturned
September 24, 1984

False memory syndrome, Satanic ritual abuse hysteria Read more & more
---
Bette Raidor

Manhattan Beach, California

Lost job, Spent 3 years on trial for non-existent
March 22, 1984

Bette was one of the victims of the McMartin preschool trial, in which several people were prosecuted for crimes that never happened based on pseudoscientific witness testimony. Read more & more
---
Gary Ramona

Napa, California

Fired & divorced after false accusation of molestation
1989

His daughter sought counseling for bulimia. Her therapist (wrongly) believed most bulimia results from childhood abuse. After treatment with sodium amytal, she "recovered" memories of abuse by him. His life was ruined. He sued the therapist and won. Read more & more & more
---
Grant Self

Bakersfield, California

20 years in prison, released after witnesses recan
September 24, 1984

False memory syndrome, Satanic ritual abuse hysteria Read more & more
---
Mary Sommerfeld

Arden Hills, Minnesota

False memories, $175K damages
1994 - 1995

She sought treatment for trauma from abuse as a child. The therapist allegedly used guided imagery, dream interpretation, hypnosis and other tactics to induce false memories of ritual cult abuse & incest. She sued, the case was settled out of court. Read more
---
Babette Spitler

Manhattan Beach, California

Lost job, Spent 3 years on trial for non-existent
March 22, 1984

Babette was one of the many victims of the McMartin Preschool prosecution, in which several people were falsely accused of abuse via pseudoscientific testimony. Read more & more
---
John Stoll

Bakersfield, California

20 years in prison, released after witnesses recan
September 24, 1984

False memory syndrome, Satanic ritual abuse hysteria Read more & more
---