---
---
---
---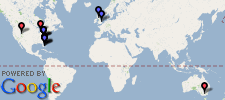 368,379 people killed, 306,096 injured and over $2,815,931,000 in economic damages


What's the harm in osteopathy?
Osteopathy is a relative of chiropractic medicine, which also focuses on the manipulation of the skeletal system to cure illnesses. (The title "osteopath" is used differently in the U.S. than in other countries). Read more about osteopathy
Here are 13 people who were harmed by someone not thinking critically.
---
Michael Arditti

London, England

Hospitalized for 14 weeks, nearly died
2005

When he had pains at the base of his spine, a friend recommended cranial osteopaths. They treated him for five weeks, and told him he was healed. His pain continued and he was rushed to a hospital where he was diagnosed with a severe infection. Read more
---
Isabella Denley

Age: 13 months
Kew, Victoria, Australia

Died (untreated epilepsy)
October 19, 2002

Isabella was prescribed medications for her epilepsy. Instead of using them, her parents consulted an iridologist, an applied kinesiologist, a psychic and an osteopath. She was being treated purely with homeopathic medication when she died. Read more & more
---
G. Fowden

Sandy, Utah

Died


A lifelong believer in natural cures, she shunned conventional medicine. When she got sick she saw nearly every form of alternative practitioner. When she finally allowed herself to be taken to a hospital, it was far too late to help. Read more
---
Alma Hall

Age: 35
Oakland Park, Florida

Paralyzed, hospitalized for months
November 26, 2004

Her boyfriend was an osteopath who offered to give her Botox injections. What she didn't know was he had bought the substance from an unlicensed provider. She, the osteopath and two others were paralyzed. Read more
---
Petra Hall

Age: 54
Hamilton, Michigan

Died
February 6, 1996

An osteopath injected Petra with herbal tea to treat her leukemia. Later that day she was in a hospital with multiple organ failure. She died 11 days later. The osteopath was fined and got five years of probation. Read more & more
---
Bonnie Kaplan

Age: 53
West Palm Beach, Florida

Paralyzed, hospitalized for months
November 26, 2004

Bonnie and her husband decided to give themselves Botox as a gift. What they didn't know was the osteopath who administered it had bought it from an unlicensed provider. She was paralyzed. Read more
---
Eric Kaplan

Age: 52
West Palm Beach, Florida

Paralyzed, hospitalized for months
November 26, 2004

Eric and his wife decided to give themselves Botox as a gift. What they didn't know was the osteopath who administered it had bought it from an unlicensed provider. She was paralyzed. Read more
---
Bach McComb

Age: 48
Oakland Park, Florida

Paralyzed, hospitalized for months
November 26, 2004

An osteopath, he found a deal on Botox via an unlicensed provider. After he injected himself, his girlfriend and two others, all four were paralyzed. He later faced federal charges. Read more & more
---
"Patient A"

Huntersville, North Carolina

Died after $27,820 in useless treatments
April-June, 2004

An osteopath claimed he could cure cancer. He ordered a ton of useless tests and then prescribed an expensive therapy without seeing the patient. He was eventually disciplined. Read more
---
"Patient B"

Huntersville, North Carolina

Died after $10K of useless treatments
April-June, 2004

An osteopath claimed he could cure cancer. He ordered many tests and then prescribed an expensive therapy without seeing the patient. He was eventually disciplined. Read more
---
"Patient C"

Huntersville, North Carolina

Died after $32K of useless treatments


An osteopath claimed he could cure cancer with "100%" effectiveness. He ordered many tests and then prescribed an expensive therapy without seeing the patient. He was eventually disciplined. Read more
---
"Patient D"

Huntersville, North Carolina

Useless expensive procedures
2005

The patient had a history of colon polyps, but the osteopath initiated chelation therapy without even seeing the patient. He was eventually disciplined. Read more
---
"Ms. L. K."

Age: 28
England

Brain stem stroke
April 7, 2001

She became paralyzed shortly after a neck manipulation by an osteopath. An MRI showed she had suffered a brain stem stroke. She spent five weeks in the hospital, five months in rehabilitation and still suffers effects. Read more
---