---
---
---
---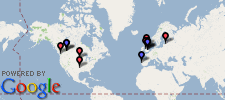 For more on this topic:
368,379 people killed, 306,096 injured and over $2,815,931,000 in economic damages


What's the harm in Jehovah's Witnesses?
Jehovah's Witnesses believe that blood transfusions are prohibited by the Bible. At one time, they also prohibited organ transplants, but have since reversed that policy.. Read more about Jehovah's Witnesses
Here are 17 people who were harmed by someone not thinking critically.
---
---
Patience Edema

Age: 24
Leyton, London, England

Died
October 24, 2002

Jehovah's Witness refused transfusion Read more
---
John Edwards

Age: 57
Southall, West London, England

Critically ill
June 4, 2008

He was hit by a car and critically injured, hospital workers revived him at least once. But his wife refuses to let them transfuse blood, without which he cannot endure emergency surgery. He sits in the ICU near death, while his non-JW sons look on. Read more & more
---
Yelena Godlevskaya

Age: 17
Riga, Latvia

Died
September 6, 1996

She was hit by a car and suffered a fractured pelvis. She refused a blood transfusion because of her Jehovah's Witness faith, so doctors could not operate. Eventually doctors forced her to take one, but she still died. Read more & more
---
Emma Gough & family

Age: 22
Shrewsbury, England

She died, the family is now motherless
October 25, 2007

Just hours after giving birth to twins, she refused a blood transfusion because she was a Jehovah's Witness. Now her children are motherless. Read more
---
Bethany Hughes

Age: 17
Calgary, Alberta, Canada

Died (leukemia)
September 5, 2002

Bethany's leukemia required (among other things) blood transfusions for treatment. Her father wanted her to do this, but she and her mother were Jehovah's Witnesses and refused. A divorce and custody case tore the family apart, and Bethany died. Read more
---
Lawrence Hughes

Calgary, Alberta, Canada

Family destroyed, daughter died
September 5, 2002

He fought in court to get conventional treatments for his daughter Bethany Hughes, against the wishes of his Jehovah's Witness wife. A long court battle and divorce resulted, and Bethany still died. Read more & more
---
---
Norma Kissoon

Age: 68
Braunstone Town, Leicester, England

Died
February 4, 2002

Jehovah's Witness refused transfusion Read more
---
---
Dennis Lindberg

Age: 14
Mount Vernon, Washington

Died (refused blood transfusion)
November 28, 2007

Dennis was a Jehovah's Witness, and refused blood transfusions. Unfortunately they are essential to treating leukemia. His parents fought in court to force the treatment, but Dennis won the case. He died. Read more
---
Jose Maestre

Age: 51
Lisbon, Portugal

Has a 12-pound tumor completely obscuring his face
December 3, 2007

Jose developed a tumor on his lip, but refused surgery because he is a Jehovah's Witness and cannot accept blood transfusions. Over decades the tumor has grown to obscure his entire face. Read more & more
---