---
---
---
---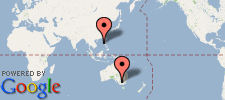 368,379 people killed, 306,096 injured and over $2,815,931,000 in economic damages


What's the harm in iridology?
Iridology is the idea that the iris of the eye can be examined and mapped to provide a guide to the state of your body. It has never been proven scientifically. Read more about iridology
Here are 204 people who were harmed by someone not thinking critically.
---
Isabella Denley

Age: 13 months
Kew, Victoria, Australia

Died (untreated epilepsy)
October 19, 2002

Isabella was prescribed medications for her epilepsy. Instead of using them, her parents consulted an iridologist, an applied kinesiologist, a psychic and an osteopath. She was being treated purely with homeopathic medication when she died. Read more & more
---
Kelley Smith

Age: 40


Two ruptured disks
1998

An iridologist at a psychic fair seemed accurate to her, and advised seeing a chiropractor. She now has two ruptured disks. Read more
---
hundreds of Filipino people

Manila, Philippines

2 deaths, blindness, wasted money
May 2002

The Philippine Academy of Ophthalmology reports two deaths, cases of blindness and hundreds of workers charged for useless treatments from iridologists. Glaucoma & diabetes patients were told to discontinue medication in favor of herbal remedies. Read more & more
---