---
---
---
---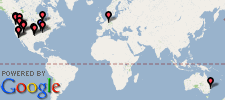 368,379 people killed, 306,096 injured and over $2,815,931,000 in economic damages


What's the harm in energy medicine?
Energy medicine here refers to the use of electric or magnetic devices to cure illnesses in unknown ways. In most cases these machines have no basis in science. Read more about energy medicine
Here are 100,018 people who were harmed by someone not thinking critically.
---
Lorie Atikian

Age: 17 months
Ontario, Canada

Died (malnutrition, pneumonia)
September 25, 1987

Lorie's parents, concerned about modern food additives, were advised to give her an organic vegetarian diet. She was also treated with herbal & homeopathic remedies and an energy machine. Her parents were convicted of neglect. Read more
---
JoAnn Burggraf

Age: 58
Tulsa, Oklahoma

Died (undiagnosed leukemia)
October 2005

Energy medicine, Quack medical device, (EPFX) Read more
---
Antonio Campos

Age: 5 months
Los Angeles, California

Died (untreated cancer)


Antonio's mother looked for an alternative to the painful chemotherapy treatments he needed for cancer. She found a clinic using a energy medicine machine. Antonio died anyway. Read more & more
---
G. Fowden

Sandy, Utah

Died


A lifelong believer in natural cures, she shunned conventional medicine. When she got sick she saw nearly every form of alternative practitioner. When she finally allowed herself to be taken to a hospital, it was far too late to help. Read more
---
Ellen Green

Post Falls, Idaho

Died (untreated cancer)
January 2005

Ellen's husband (a massage therapist) bought a PAP-IMI energy medicine machine for his practice. She tried to use it to cure her own breast cancer. She did not succeed. Read more
---
Debra Harrison

Wichita, Kansas

Died (untreated diabetes)
August 2005

Debra was one of the founders of Consegrity, a form of energy medicine and faith healing. She rejected medical treatment for herself or her family members, and died of undiagnosed diabetes. Read more
---
Mitchell James Little

Age: 18 days
Raymond Terrace, NSW, Australia

Died (untreated heart defect)
September 25, 1999

A naturopath perscribed herbal remedies & energy machine treatments for a congenital heart defect, and advised against surgery. The baby died, and the naturopath was sentenced to five years in jail. Read more & more
---
Karen McBeth

Age: 59
Seattle, Washington

Died, $17,000 wasted on quack device
September 3, 2005

Her carcinoma had progressed into terminal bone cancer. She spent thousands from her savings to buy an EPFX machine, an unproven device. Soon she doubted whether the device was effective. She died, disappointed. Read more & more & more
---
Elizabeth A. Roth

Age: 49
Medway, Ohio

Died
February 28, 1997

Chiropractor allegedly used a "Vega" energy machine to diagnose her but withheld information about her diagnosis. Another doctor diagnosed her with advanced breast cancer. A lawsuit resulted after her death.
---
Diane Shepherd

Provo, Utah

Died (untreated cancer)
October 20, 2004

She refused surgery for breast cancer and went to a naturopath. There she was diagnosed using muscle tests, treated with an energy machine and given homeopathic remedies. She died within five months. The naturopath was arrested. Read more
---
Maria Silva

Age: 68
Los Angeles, California

Died
March 29, 2003

Silva had many illnesses, which she attempted to treat using PAP-IMI, an energy medicine machine. She died of a heart attack while attached to the machine. Read more
---
Sheri Spencer's mother

Boise, Idaho

Died
June 25. 1991

The alternative treatments for her cancer consisted mostly of treatments on an energy machine and she was told she was "completely cured." She died two months later. Read more
---
100,000 Q-Ray customers

Elk Grove Village, Illinois

Duped into buying a useless bracelet
2000 - 2003

A company was selling magnetic bracelets for as much as $250, that they claimed could cure disease. A federal judge ruled that they were only selling the placebo effect, and ordered them to repay $22.5 Million to customers. Read more & more
---
"Jane Doe"

Mannheim, Germany

Died (untreated breast cancer)
October 2, 2008

She felt a lump in her breast and turned to her local naturopath. He used an energy machine to diagnose it as non-cancerous, and maintained this as it grew to 24cm in size. When she finally saw a doctor, it was too late. His license was revoked. Read more & more
---
"John Doe"

Age: 32
Bellingham, Washington

Died (untreated testicular cancer)
December 14, 2004

He refused surgery and instead saw a couple with an "energy machine" that they claimed could cure cancer. The device has no scientific basis, and he died while under their care, leaving a wife and three children. The couple were prosecuted. Read more & more
---