---
---
---
---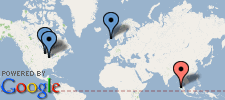 368,379 people killed, 306,096 injured and over $2,815,931,000 in economic damages


What's the harm in interpreting dreams?
Everyone has dreams and they often contain vivid imagery. It is only natural to wonder about the meaning of this imagery. Like anything, it can be taken too far. Read more about dream interpretation
Here are 205 people who were harmed by someone not thinking critically.
---
Steven Linscott

Oak Park, Illinois

Wrongfully convicted, 3 years in prison, 7 years on bond
1982 - 1992

After a neighbor was murdered, he admitted to police that he had had a dream of a similar murder. A jury took just hours to convict him based on this and some flimsy hair analysis testimony. DNA tests later proved he could not have been the murderer. Read more & more
---
Mary Sommerfeld

Arden Hills, Minnesota

False memories, $175K damages
1994 - 1995

She sought treatment for trauma from abuse as a child. The therapist allegedly used guided imagery, dream interpretation, hypnosis and other tactics to induce false memories of ritual cult abuse & incest. She sued, the case was settled out of court. Read more
---
42 Indonesian women

Age: 11 to 30
Lubukpakam, Sumatera Utara, Indonesia

Murdered
1986 - 1997

A man believed his father's ghost came to him in a dream and told him to kill 70 women so he could have magical powers. Belief in sorcery is widespread in Indonesia, and he used that to lure women to their deaths. He was executed in July 2008. Read more & more & more
---
"Jane Roe"

Age: 23
Aberdeen, Scotland, UK

Questioned by police, oil rig evacuated
February 10, 2008

She happened to mention that she had a dream about a bomb to her coworker on a North Sea oil rig. As a result, the rig was evacuated by air and she was taken to the sheriff for questioning. The evacuation may have cost up to £500,000. Read more & more
---