---
---
---
---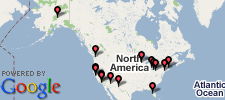 For more on this topic:
368,379 people killed, 306,096 injured and over $2,815,931,000 in economic damages


What's the harm in Christian Science?
The Church of Christ, Scientist believes that members should turn to faith first for healing, but do not reject doctors. Sometimes they rely on faith a little too much, as these stories demonstrate. Read more about Christian Science
Here are 15 people who were harmed by someone not thinking critically.
---
Nancy Brewster

Age: 7
El Paso, Texas

Died (untreated cancer)
September 29, 1963

She got a lump on her neck at 5 and soon was too sick to go to school. A Christian Science practitioner prayed for her and said the illness was an illusion. When she died there was no funeral and the family never spoke of her again. Read more
---
Ian Burdick

Age: 15
Sherman Oaks, California

Died (untreated diabetes)
November 10, 1987

A Christian Science nurse practitioner was treating Ian, but but he had juvenile diabetes. He was 5' 8" tall but only 87 pounds when he died. Read more
---
Seth Ian Glaser

Age: 17 months
Culver City, California

Died (bacterial meningitis)
March 28, 1984

Religion (Christian Science) Read more
---
Jim Henson (puppeteer)

Age: 53
New York City, New York

Died (septic shock)
May 16, 1990

He had felt sick for several days. His wife later told a magazine that he probably delayed going to the hospital due in part to his Christian Science upbringing. Had he gone earlier his infection would have been treatable. Instead he died. Read more & more
---
Amy Hermanson

Age: 7
Sarasota, Florida

Died (untreated diabetes)
September 30, 1986

Amy was a talented little girl who had diabetes. Her parents are Christian Scientists and were unaware. She eventually died of complications, and her parents were convicted of a crime, which was overturned on appeal. Read more & more
---
---
Debra Ann Kupsch

Age: 9
Wisconsin

Died (untreated diptheria)
1982

She contracted diphtheria at a Christian Science camp in Colorado, and died shortly after arriving home. Many children at the camp were unvaccinated. The CDC had to spend thousands to track down the other children from the camp. Read more
---
Kris Ann Lewis

Age: 13
Pittsburgh, Pennsylvania

Died (untreated bone cancer)
June 1981

When her Christian Scientist mother heard the diagnosis of bone cancer at the hospital, she insisted they were wrong. The girl was treated by a church practitioner. The hospital tried to intervene, but Pennsylvania has a religious exemption law. Read more
---
Andrew Pinkham

Age: 3
Orinda, California

Died (untreated pneumonia)


Andrew got pneumonia, but his parents refused to take him to a doctor. They and a Christian Science practitioner prayed at his side. He died. Read more
---
Natalie Rippberger

Age: 8 months
Santa Rosa, California

Died (meningitis)
December 9, 1984

She contracted meningitis, which can be treated with a 92% success rate. But her parents hired a Christian Science practitioner. She suffered for two weeks and died. Both parents were convicted of felony child endangerment. Read more
---
Ronald Rowan

Age: 11
Tallmadge, Ohio

Died
1979

The medical examiner concluded he had been ill for at least a week. He was too weak to expel vomitus from his mouth and asphyxiated. His parents were Christian Scientists. Read more
---
Kimberly Sartore

Age: 1
Alaska

Died (untreated meningitis)
1969

She died of medically untreated meningitis. Her father was convicted of manslaughter, but his conviction was overturned and expunged from his record when Alaska pased a religious exemption law. Read more
---
Michael Schram

Age: 12
Mercer Island, Washington

Died (ruptured appendix)
1979

He died from a ruptured appendix after several days of prayer and "spiritual healing." His mother is a Christian Scientist. Read more
---
Matthew Swan

Age: 16 months
Detroit, Michigan

Died (spinal meningitis)
1977

Christian Science practitioners repeatedly told Matthew's parents he was being healed, while his spinal meningitis raged on. When he was finally hospitalized, it was too late. His parents went on to create CHILD, Inc. to educate the public. Read more
---
Eben Tryon

Age: 7
Norwood, Massachusetts

Died (untreated diabetes)
November 9, 2003

His Christian Scientist parents thought his stomach pains were the flu. Actually he had diabetes. When he died, the prosecutor declined to file charges. Read more
---