---
---
---
---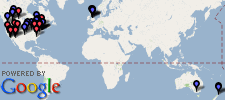 For more on this topic:
368,379 people killed, 306,096 injured and over $2,815,931,000 in economic damages


What's the harm in going to a chiropractor?
In its original form, chiropractic is a form of energy medicine based on unscientific principles such as 'innate intelligence'. To be fair, not all current chiropractors still believe in these concepts. Read more about chiropractic
Here are 312 people who were harmed by someone not thinking critically.
---
Linda Barter

Age: 42
Sutton Coldfield, England

Permanent neck injury
1997

After a neck manipulation at her chiropractors, Linda now has a permanent neck problem and must take tranquilizers daily. Read more
---
Kristi A. Bedenbaugh

Age: 24
Little Mountain, South Carolina

Died
1993

Kristi sought relief from sinus headaches from her chiropractor. A neck manipulation caused a brain stem stroke and she died three days later. The chiropractor later paid a $1000 fine. Read more
---
Samantha Cools (athlete)

Age: 22
Airdrie, Alberta, Canada

Neck injury just before Olympics
May 2008

Her chiropractor over-rotated her neck during a routine adjustment, tearing tendons and muscles. This painful injury even limited her ability to eat, mere weeks before the world championships. She came in fifth, and DNFed at the Olympics. Read more
---
Frances S. Denoon

Age: 28
Bristol, England

Stroke
March 1998

She visited a chiropractor to relieve some neck pain. On her second visit, "my world went into a dizzy spin" with nausea and loss of speech. The neck manipulation had caused a brain stem stroke. She now runs a web site for victims. Read more
---
Linda Epping

Age: 8
Los Angeles, California

Died
December 29, 1961

Linda was scheduled for surgery to remove a tumor, when her parents met a chiropractor who said he could cure her. He had her swallowing up to 124 pills a day for months. He was convicted of second-degree murder in 1967. Read more
---
Donna Claire Fawcett

Age: 34
Barrie, Ontario, Canada

Died
1987

She had a chiropractic neck manipulation and died after several months in a coma. Read more
---
G. Fowden

Sandy, Utah

Died


A lifelong believer in natural cures, she shunned conventional medicine. When she got sick she saw nearly every form of alternative practitioner. When she finally allowed herself to be taken to a hospital, it was far too late to help. Read more
---
---
Brittmarie Harwe

Age: 40
Wethersfield, Connecticut

Unable to swallow
1993

A chiropractic manipulation permanently paralyzed one of her vocal cords and left her unable to swallow food. She received $900,000 in a settlement. Later the chiropractor was given probation for harassing her by phone. Read more & more
---
Amy C. Hays

Age: 32
Oklahoma City, Oklahoma

Bullied into treatment


She feels she was duped and bullied by her chiropractor, read her story in her own words. Read more
---
Christa Heck

Age: 43
Mahopac, New York

Stroke
November 2003

Ten minutes after visiting her chiropractor for headaches & back pain, she found herself crumpled & paralyzed in her SUV. She had been given a stroke. Read more
---
John Hoffman

Age: 39
Gaithersburg, Maryland

Died
August 5, 2004

His wife found him collapsed in their stairwell. He had had a chiropractic adjustment 3 hours earlier. His stroke was ruled to have been caused by the adjustment. He died 6 days later. Read more & more & more
---
Yvonne Hoskin

Age: 65
Geelong, Australia

Fractured back, chronic pain
2008

She attended a chiropractor for backache. X-ray taken, and cancer of the vertebral body was missed. Subsequent manipulation caused major fracture which required 3-level fusion to fix and resulted in chronic pain.
---
J. Kesterson

California

Mistreated


She had an extremely bad experience with a chiropractor that she has documented on the web. Read more
---
Karen Labdon

Bellevue, Washington

Brain stem stroke
March 12, 1997

She had visited her chiropractor before for headaches and stress, but this time she felt sick after the visit. The alphabiotics practitioner had given her a brain stem stroke. She is now suing. Read more & more
---
---
Lana Dale Lewis

Age: 45
Toronto, Ontario, Canada

Died
September 12, 1996

Two weeks after a chiropractic neck manipulation, she suffered a stroke. The chiropractic board ruled her death an accident. Read more
---
Les Limage

Age: 67
Waterloo, Ontario, Canada

Paralyzed by stroke
December 5, 2001

Les went to a chiropractor for some neck pain related to his hip replacement. The neck manipulation caused a brain stem stroke that paralyzed him and put him on a respirator. Read more
---
Jose Lopez

Age: 64
Sacramento, California

Died
June 10, 2008

He went to see an unlicensed chiropractor at his home. A neck manipulation seriously injured him and left him unconcious. He was declared brain dead at hospital and the chiropractor faces murder charges. Read more & more
---
Laurie Jean Mathiason

Age: 20
Saskatoon, Saskatchewan

Died
February 7, 1998

Laurie had a tailbone injury and sought out a chiropractor who manipulated her neck. She fell into a coma and died three days later. Read more
---
Kathryn McGlynn

England

Brain stem stroke
November 1994

After a chiropractic neck manipulation, she felt weakness down her right side. When she went to the hospital she was told she'd had an ischaemic stroke. Read more
---
Sandra Nette

Age: 41
Edmonton, Alberta, Canada

Multiple strokes, paralyzed
September 13, 2007

She felt dizzy after driving home from her chiropractor. Hospital physicians found she had suffered multiple strokes and required surgery. Paralyzed, disabled and under 24 hour care, she has filed a $500 million class action lawsuit. Read more & more
---
Pierrette Parisien

Age: 36
Montreal, Quebec, Canada

Died
February 22, 2006

A regular chiropractic patient for nine years, she had neck pain, headaches and dizziness after two prior appointments. The third time, she fell into a coma and died. Read more
---
Charles Paynter

Age: 68
Columbus, Ohio

Hospitalized with kidney failure
1988

He saw a chiropractor for help with his back pain. He was treated with heat, herbs, tonics and homeopathy. Three days after his last treatment, he was rushed to a hospital and barely recovered. A judgment for $147,500 was awarded by a court. Read more
---
Donald Pereyra

Ridgefield, Connecticut

Died (liver failure)
December 17, 1987

After a tumor on his back was surgically removed, his doctors recommended radiation and chemo. His chiropractor disagreed and injected him with unproven substances. He died of liver failure (he had no liver cancer) and a lawsuit resulted. Read more
---
Trevor Rhiner

Age: 17
Des Moines, Iowa

A year of unnecessary treatments
2003

Trevor saw a chiropractor for back pain and numbness in his legs. He was diagnosed with a series of problems and told to take a year of treatments, paid up front. A second opinion from a doctor said there was nothing wrong with him. The family sued. Read more
---
Diane Rodrigue

Age: 36
Iroquois Falls, Ontario, Canada

Paralyzed by stroke
January 1994

She visited a chiropractor with help with her headaches. After a neck manipulation, her headache got worse. A second chiropractor manipulated her neck once more, and she had a stroke. She is now quadriplegic and requires a ventilator. Read more
---
Elizabeth A. Roth

Age: 49
Medway, Ohio

Died
February 28, 1997

Chiropractor allegedly used a "Vega" energy machine to diagnose her but withheld information about her diagnosis. Another doctor diagnosed her with advanced breast cancer. A lawsuit resulted after her death.
---
Eric Sass

Anthem, Arizona

Stroke
July 3, 2008

Eric is a church youth counselor who is in fantastic physical shape. Following a routine spine & neck adjustment for "wellness" he experienced dizziness, impaired vision and headache. He'd had a stroke. Read more
---
Marilyn Senzell

Age: 59
South Holland, Illinois

Stroke
2001

She claims she suffered a torn carotid artery during a 2001 session with a chiropractor. A week later, she suffered a stroke which has left her disabled. The chiropractor paid her $500,000 in a settlement in 2008. Read more
---
Kelley Smith

Age: 40


Two ruptured disks
1998

An iridologist at a psychic fair seemed accurate to her, and advised seeing a chiropractor. She now has two ruptured disks. Read more
---
---
Linda Solsbury

Age: 36
New London, Connecticut

Paralyzed & mute. Her $10 million judgement was avoided via bankruptcy
1985

An LPN, she was left quadriplegic and mute after a neck manipulation. She sued, and became an advocate for changes in the laws regarding chiropractors. She died years later of complications from her illness. Read more
---
Kimberly Lee Strohecker

Age: 30
Hazleton, Pennsylvania

Died (epileptic seizure)
April 29, 1999

A chiropractor advised ceasing anticonvulsive medication and treated her with cranio-sacral therapy. When seizures returned, he insisted they were normal. She died in a later seizure. He got 18 months in prison. Read more
---
James Turner

Age: 11
Barrie, Ontario, Canada

Paralyzed
July 24, 2000

He was taken by his parents to a chiropractor, who manipulated his back, but failed to notice he had a spinal cord tumor. His was left paralyzed. The parents sued for $2.75 million. Read more
---
Wendy Venegas

Age: 34
San Diego, California

Died
1999

Wendy, a mother of three young children, went to her chiropractor for help with sinusitis. A neck manipulation led to a brain stem stroke. Read more
---
Theresa Wilkin

Masterton, New Zealand

Delayed treatment for serious illness
February 2008

She was sick for a while and saw a chiropractor for the headaches. He told her that she had a pinched nerve in her back. She actually had a rare neurological illness that has had a local outbreak, and barely got to the hospital in time. Read more
---
Over 200 chiropractic patients

Age: 31 - 80


Serious harm including strokes, paraplegia
2001 - 2007

This meta-study in JRSM found more than 200 patients who were suspected to have been seriously harmed by spinal manipulation. Read more
---
34 child chiropractic patients

Age: 3 months - 15 years


Serious injury, delayed diagnosis of disease
December 18, 2006

This meta-study in Pediatrics found one death and 13 other serious injuries to children undergoing chiropractic manipulation. It also found 20 other cases of delayed diagnosis of disease or inappropriate use of chiropractic. Read more
---
36 Colorado patients

western Colorado

6 died, 10 colectomies, 36 total infections
1982

This New England Journal of Medicine report is on an outbreak of amebiasis spread by colonic irrigation equipment at a chiropractic clinic in Colorado. Six patients died, thirty others required surgery or hospital care. Read more
---
"Mrs. A."

Age: 33
New Zealand

Stroke
November 9, 2007

This mother of two saw a chiropractor for relief from headaches. After the fourth visit, she felt dizzy, lost sight in one eye and could not concentrate. This was caused by a stroke. A government commission recommended the chiropractor apologize. Read more
---
"A.K." (woman)

Tucson, Arizona

Died (untreated cancer)


Over the ten months she saw the chiropractor, he assured her at least twice that she did not have cancer. He even missed it on an x-ray at first. Finally he referred her to a doctor but it was too late. She died and he was suspended for a year. Read more
---
"Miss H."

Age: 43
Sheffield, England

Disabled, cannot work
July 18, 2000

Chiropractor Read more
---
"Margaret X"

Liverpool, England

Brain stem stroke
January 2003

She visited her chiropractor due to neck problems. She felt sick and nauseous after a neck manipulation. She had been given a brain stem stroke. Read more
---