---
---
---
---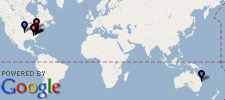 For more on this topic:
368,379 people killed, 306,096 injured and over $2,815,931,000 in economic damages


What's the harm in Chelation Therapy?
Chelation therapy is a real medical procedure used for certain rare conditions. However, some try to use it to treat various things it cannot cure, including autism. Read more about Chelation Therapy
Here are 12 people who were harmed by someone not thinking critically.
---
Anne M. Adkins

Wichita, Kansas

Kidney failure
January 6 - 26, 2004

She traveled to Utah to be treated by a holistic naturopath. She received large doses of vitamin C, chelation therapy and colonics among other things. Within weeks she was suffering from kidney failure. Read more & more
---
Susan Alexander

Age: 56
Atlanta, Georgia

Died
June 17, 2002

Susan was incorrectly diagnosed with lead poisoning and her heart stopped during the ensuing chelation therapy. Her family sued the practitioner and settled out of court. Read more
---
Kenneth Hough

Age: 55
Bellbowrie, Queensland, Australia

Heart attack, permanent heart damage
January 1997

A practitioner claimed that Kenneth's atherosclerosis could be battled with chelation therapy. There is no scientific evidence for this. After suffering permanent damage to his heart, he sued the doctor. Read more
---
Abubakar Tariq Nadama

Age: 5
Portersville, Pennsylvania

Died
August 23, 2005

In a attempt to "cure" his autism, Tariq was given chelation therapy. His heart stopped. The practitioner was brought up on charges, which were later dropped. Read more & more & more
---
Roy Smith

Age: 42


Years of useless treatments before he died
July 13, 1998

Roy contracted ALS, and even though his doctor had screened him for mercury and found none, websites convinced him it was the cause. He had all his fillings removed and underwent years of chelation and oxygen therapy. Read more & more
---
"Patient A"

Huntersville, North Carolina

Died after $27,820 in useless treatments
April-June, 2004

An osteopath claimed he could cure cancer. He ordered a ton of useless tests and then prescribed an expensive therapy without seeing the patient. He was eventually disciplined. Read more
---
"Patient B"

Huntersville, North Carolina

Died after $10K of useless treatments
April-June, 2004

An osteopath claimed he could cure cancer. He ordered many tests and then prescribed an expensive therapy without seeing the patient. He was eventually disciplined. Read more
---
"Patient C"

Huntersville, North Carolina

Died after $32K of useless treatments


An osteopath claimed he could cure cancer with "100%" effectiveness. He ordered many tests and then prescribed an expensive therapy without seeing the patient. He was eventually disciplined. Read more
---
"Patient D"

Huntersville, North Carolina

Useless expensive procedures
2005

The patient had a history of colon polyps, but the osteopath initiated chelation therapy without even seeing the patient. He was eventually disciplined. Read more
---