---
---
---
---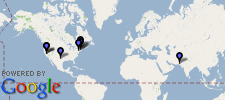 For more on this topic:
368,379 people killed, 306,096 injured and over $2,815,931,000 in economic damages


What's the harm in ayurvedic medicine?
Ayurvedic medicine is a form of alternative medicine that is based upon traditional remedies that originate in India. Read more about ayurvedic medicine
Here are 20 people who were harmed by someone not thinking critically.
---
David Flint

California

Died (untreated leukemia)
April 1994

David sought out ayurvedic treatments from (among others) Deepak Chopra. At one point he was told his leukemia was gone. It was not. David died four months later, and a lawsuit was filed in July 1995. Read more & more
---
---
---
---
7 breast cancer patients

Karachi, Pakistan

Delayed treatment, worsening disease
2003

This study found at least 7 breast cancer patients who delayed treatment in favor of ayurvedic medicine. Read more
---
---
---