---
---
---
---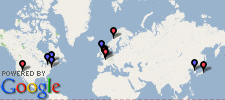 For more on this topic:
368,379 people killed, 306,096 injured and over $2,815,931,000 in economic damages


What's the harm in acupuncture?
Acupuncture is a traditional Chinese medical technique involving the insertion of tiny needles into the skin to redirect the flow of "qi" within the body. Read more about acupuncture
Here are 1,184 people who were harmed by someone not thinking critically.
---
Sylvie Cousseau

Age: 41
Paris, France

Died
March 31, 2001

Sylvie was diagnosed HIV positive, but pursued alternative treatments for her disease including homeopathy, acupuncture and drinking her own urine. She eventually died of AIDS. Read more & more & more
---
Yesim McKeag

Age: 33
Inverleithing, Edinburgh, Scotland, UK

Incorrect diagnosis, useless treatments
2007

She was told she had a hormonal imbalance and was prescribed acupuncture and herbal remedies for her acne. After several treatments, her skin got worse. A doctor later told her the diagnosis was "nonsense." Read more
---
Sean Miller

Age: 36
Rosedale, Toronto, Ontario, Canada

Ineffective treatments
2006

In the grips of severe depression, he tried many treatments. Included in this were acupuncture, vitamin regimens and "a shop's worth of naturopathic remedies," none of which worked. A conventional medical procedure called DBS eventually cured him. Read more
---
Grace Park

Age: 29
Seoul, South Korea

Bruised back
2007

Grace is an LPGA golfer. After hurting her back in 2005, she desperately tried any type of treatment to recover. A Korean form of acupuncture bruised her back and put her in agony. Weeks later she was bruised and her back was no better. Read more
---
Sarah Parkinson (actress)

Age: 41
East Sussex, England

Died (untreated breast cancer)
September 23, 2003

When she was diagnosed with breast cancer, she was concerned that chemotherapy would prevent her from using IVF to start a family. Instead she used acupuncture, spiritual healing, homeopathy and Johrei to treat it. Read more & more
---
Karen Hall Siegel

New York City, New York

Useless treatment
2003

After suffering burns in a kitchen accident, she sought out many different treatments for her lingering pain and scars. "Acupuncture -- for fifteen weeks -- didn't do a thing." Read more
---
Michael Tylo II

Age: 19
Henderson, Nevada

Died (seizure/drowning)
October 18, 2007

The son of actress Hunter Tylo and actor Michael Tylo, he was counseled that his seizures were caused by familial stress & could be treated with therapy and acupuncture. Later, he suffered a seizure, fell into a pool and drowned. His mother has sued. Read more
---
1,144 acupuncture patients

Montreal, Quebec, Canada

Exposed to infection
1979 - January 2004

Health officials discovered that an acupuncture practitioner was not properly sterilizing the needles used. Almost 1,200 patients could have been exposed to infection, and had to be contacted to get HIV and hepatitis tests. Read more & more
---
30 London clinic patients

London, England

Hepatitis B infections
July 1997 - February 1998

Up to 30 patients were infected with the potentially deadly Hepatitis B virus at a London alternative medicine clinic. They were given an unproven procedure called autohaemotherapy, which is based on acupuncture. The doctor was sent to jail. Read more
---
"John Doe"

Tokyo, Japan

Died
September 2003

This case report is of the autopsy of a patient who experienced shortness of breath right after an acupuncture treatment. Both lungs had collapsed. The patient died within 90 minutes. Read more
---
"Jane Roe"

Age: 40
Norway

Died
May 1995

Seeking relief from her fibromyalgia, she visited an acupuncturist. The needle punctured her unusually thin chest wall, and damaged her heart. She was dead within 2 hours. Read more
---